Elegant Suites

Grayline Cruise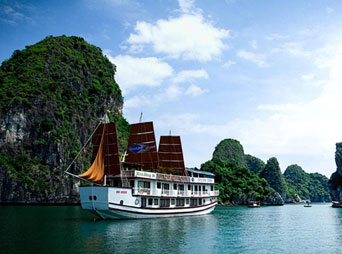 Price from: USD $170.00
Recently built and launched, Grayline Halong has set a new standard for deluxe cruise service on one of the most beautiful bays on earth.

Grayline Halong has lived true to the 103 year old brand its name is associated with.

With 14 well equipped rooms, Grayline Halong stands out with its oak wooden deco, with all rooms either having large window or private balcony opening out into the emerald water of Halong Bay: deluxe cabin on the first deck; deluxe balcony cabin on the second deck and the special VIP suite with its own terrace.

Grayline Halong features 1 indoor and 1 outdoor bar with exquite food and beverage service. Relax and chill as you enjoy a sip of cocktail on the open green sundeck.

All staff had received full training and promise to make your holiday a second to none. Book your trip today on this soft opening period to get the best deal!
Tour

Features

Gray Line Halong is brand new to Halong but not new to the world. We are proud to be the first oceanic overnight cruise along the 103 years history of Gray Line Worldwide.
Spread over 3 decks, the Gray Line Halong Cruise has 14 luxury cabins offering boutique interiors with oak-wooden wall, huge windows, sea-view bathrooms, and private balcony. The VIP Suites are featured by private sunbath areas with restricted access and more comfy facilities and services

These are available facilities on Gray Line Cruise:

General
24-hour Security
Conference & meeting facilities
Reception
Rowing boat
Safety box at reception
Tender for sightseeing
Theme Cruise

Services

Baby cot
Bar
Beauty Services and Massage
Cabin Service (Snack Meals)Restaurant
Activities on Board
Cooking classes
Fishing
Kayaking
Movie nights
Snorkeling
Spa & Massage
Swimming
Tai Chi

These are cruise properties for Gray Line Cruise:

Specifications Gray Line Cruise
Operated 2013
Length 36m
Width 10m
Height NA
Depth NA
Dining Room 80m
Bar/ Sundeck 280
Massage cabin NA

HALONG 2 DAYS 1NIGHT

HIGHLIGHT
- Embarkation at Tuan Chau, the best Marina Pier in Halong. Enjoy the private Gray Line lounge.
- The longest routes among other cruise operators, provide guests more time to discover diversified landscape of Halong bay.
- Visit Vung Vieng, the less-touristic floating village with magnificence of Limestone Mountain, floating life of locals and pure environment.
- BBQ buffet dinner with fresh seafood.
- Quiet sleeping area ( Drum cave ), avoid the noise and bad impact from neighboring cruises.

Day 1

07.45 - 8.15 Shuttle bus pick up at hotel
12.15 Embarkation at Tuan Chau Marina pier (Tuan Chau island, Halong city). Enjoy complimentary drink at Gray Line private lounge.
12.30 Transfer by tender to the Gray Line Halong Cruise - welcome drink. Cruise briefings and check in your cabins.
13.00 Enjoy set lunch while cruising to Vung Vieng floating fishing village.
15.00 Arrive Vung Vieng - the most beautiful fishing village in Halong bay. You will take the rowing boat trip and pass through floating houses of 65 families, a floating school & floating information centre, meet and see the local life, enjoy the magnificent landscape with limestone mountains and sea caves. Luxury kayaks are available for people who want to discover the village by themselves.
16.15 Back to the cruise and heading to Drum cave.
16.45 - 17.30 Enjoy swimming around the cruise ( weather condition ), relax on the sundeck for fantastic views and sunset photo opportunities.
18.30 Cooking demonstration will be on the sundeck. Let's see how to make the fresh/fried spring rolls and mix fish-sauce.
19.30 Luxury buffet BBQ dinner ( available for group 10 pax + ) is served with a variety of Vietnamese and Western foods.
21.00 Evening activities include: film entertainment in the outdoor bar at approximately 21.00 ; Board and card games are available ; Join the squid fishing on boat with our crew. You can enjoy the squid cooked with assistance from our chef.
22.00 Overnight anchorage near Drum cave, the quietest sleeping area permitted by Halong governmental office. End of the program of Day 1.

Day 2

06.30 Tai Chi class on the Sundeck.
07.30 Light breakfast with Coffee, tea and bakeries on board
08.30 Visit Amazing cave ( Hang Sung Sot ) discovered by the French in 1901. Opened for tourists since 1936, now it is a must-to-see and a symbol for geology value of Halong.
09.30 - 10.30 Check out time. Relax on the sundeck or in the dining room to enjoy the bay scenery during the trip back the pier. Brunch served on board.
11.30 Disembarkation at Tuan Chau Marina. Relax at Gray Line private lounge before land transfer to Hanoi. End of services.

Note. Cruise itinerary and schedule are subject to change due to weather, tide levels and operating conditions.

HALONG 3 DAYS 2 NIGHTS

HIGHLIGHT
- Embarkation at Tuan Chau, the best Marina Pier in Halong. Enjoy the private Gray Line lounge.
- The longest routes among other cruise operators, provide guests more time to discover diversified landscape of Halong bay.
- Visit Vung Vieng, the less-touristic floating village with magnificence of Limestone Mountain, floating life of locals and pure environment.
- The most interesting activities within Day 2: Cycling thru the village, rain forest and rice fields; Trekking in the mountain; Kayaking thru Caves with emerald pure water.
- BBQ buffet dinner with fresh seafood.
- Quiet sleeping area (Drum cave), avoid the noise and bad impact from neighboring cruises.

Day 1

07.45 - 8.15 Shuttle bus pick up at hotel
12.15 Embarkation at Tuan Chau Marina pier (Tuan Chau island, Halong city). Enjoy complimentary drink at Gray Line private lounge.
12.30 Transfer by tender to the Gray Line Halong Cruise - welcome drink. Cruise briefings and check in your cabins.
13.00 Enjoy set lunch while cruising to Vung Vieng floating fishing village.
15.00 Arrive Vung Vieng - the most beautiful fishing village in Halong bay. You will take the rowing boat trip and pass through floating houses of 65 families, a floating school & floating information centre, meet and see the local life, enjoy the magnificent landscape with limestone mountains and sea caves. Luxury kayaks are available for people who want to discover the village by themselves.
16.15 Back to the cruise and heading to Drum cave.
16.45 - 17.30 Enjoy swimming around the cruise (weather condition), relax on the sundeck for fantastic views and sunset photo opportunities.
18.30 Cooking demonstration will be on the sundeck. Let's see how to make the fresh/fried spring rolls and mix fish-sauce.
19.30 Luxury buffet BBQ dinner (available for group 10 pax + ) is served with a variety of Vietnamese and Western foods.
21.00 Evening activities include: film entertainment in the outdoor bar at approximately 21.00; Board and card games are available; Join the squid fishing on boat with our crew. You can enjoy the squid cooked with assistance from our chef.
22.00 Overnight anchorage near Drum cave, the quietest sleeping area permitted by Halong governmental office. End of the program of Day 1.

Day 2

06.30 Enjoy Tai Chi instructions.
07.30 Enjoy light breakfast with tea, coffee, cake, bakery and toast.
08.30 Transfer to Gray Line day boat, depart for Lan Ha bay, Cat Ba island.
10.00-12.00 Arrive at Viet Hai pier – take the bicycle trip along the village paths through rain forests and dark tunnel. Enjoy the wildlife, stunning scenery with rice fields and fresh water dike, stop at the village for communication with locals then take a short trek in the core of Cat Ba National Forest to Bat cave.
12.00-13.00 Cycle back to Viet Hai pier, embark to the boat and continue cruising. Lunch served on board.
14.00-16.00 Kayaking in Dark Cave, Light Cave or in 3-Peach lagoon. This area is wonderful for kayaker with light wind and gentle wave, emerald pure water, no human being influence and none-touristic feeling. Swimming is available on the beach (weather and tide condition).
17.30 Cruise back to our overnight anchorage near Drum Cave.
18.00 Relax and enjoy sunset on the Sundeck.
19.30 Luxury buffet BBQ dinner (available for group 10 pax +) is served with a variety of Vietnamese and Western foods.
21.00 Evening activities include: film entertainment in the outdoor bar at approximately 21.00; Board and card games are available; Join the squid fishing on boat with our crew. You can enjoy the squid cooked with assistance from our chef.
22.00 Overnight anchorage near Drum cave, the quietest sleeping area permitted by Halong governmental office. End of the program of Day 2.

Day 3

06.30 Tai Chi class on the Sundeck.
07.30 Light breakfast with Coffee, tea and bakeries on board
08.30 Visit Amazing cave (Hang Sung Sot ) discovered by the French in 1901. Opened for tourists since 1936, now it is a must-to-see and a symbol for geology value of Halong.
09.30 - 10.30 Check out time. Relax on the sundeck or in the dining room to enjoy the bay scenery during the trip back the pier. Brunch served on board.
11.30 Disembarkation at Tuan Chau Marina. Relax at Gray Line private lounge before land transfer to Hanoi. End of services.

Note. Cruise itinerary and schedule are subject to change due to weather, tide levels and operating conditions.

Price of 2Days/1Night trip:
Number in Group
Valid 1 April to 30 Sept 2015
Price per person in US$ in party of
2
4-6
8-10
Single Supplement
Deluxe Window
175
170
165
65
Deluxe Balcony

185
180
175
75
Grayline Suite
210
205
200
130
Number in Group
Validity from Oct 1st 2015 to April 30th 2016
Price per person in US$ in party of
2
4-6
8-10
Single Supplement
Deluxe Window
215
210
207
115
Deluxe Balcony

239
235
229
130
Grayline Suite
275
265
N/A
N/A
Price of 3Days/2Nights trip:
Number in Group
Valid 1 April to 30 Sept 2015
Price per person in US$ in party of
2
4-6
8-10
Single Supplement
Deluxe Window
285
280
275
115
Deluxe Balcony

305
300
295
125
Gralyline Suite
325
320
315
135
Number in Group
Validity from Oct 1 2015 to April 30 2016
Price per person in US$ in party of
2-3
4-6
7-10
Single Supplement
Deluxe Window
335
329
325
190
Deluxe Balcony

349
345
340
206
Grayline Suite
409
400
N/A
260
Tour

Other